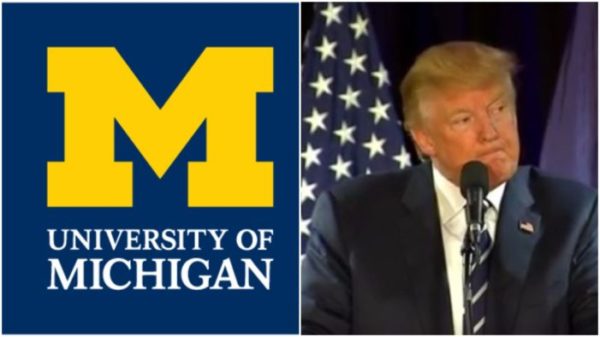 The University of Michigan has released a statement on Saturday, taking a stand against Donald Trump's #MuslimBan, by refusing to release the immigration status of their students.
In a statement, the University repeated their policy on non-discrimination, privacy, and public safety. Here are some of the key points in the press release:
– The University of Michigan welcomes and supports students without regard to their immigration status. We will continue to admit students in a manner consistent with our non-discrimination policy. Once students are admitted, the university is committed to fostering an environment in which each student can flourish.
– The university complies with federal requirements associated with managing its international programs. Otherwise, the university does not share sensitive information like immigration status.
– Campus police do not inquire about or record immigration status when performing their duties.
– In accordance with federal law, the enforcement of immigration law rests with Immigration and Customs Enforcement and Customs and Border Protection. Campus police will not partner with federal, state, or other local law enforcement agencies to enforce federal immigration law except when required to do so by law.
– The university maintains a strong commitment to the privacy of student records for all students, consistent with state and federal laws. We do not provide information on immigration status to anyone except when required by law.
– The university offers in-state tuition to undocumented students who meet certain conditions.
– The university offers confidential counseling services to all students.
Universities across the country are scrambling to reassure students and prevent them from leaving the country.